Best Pilot Books For Beginners (Must Read In 2024)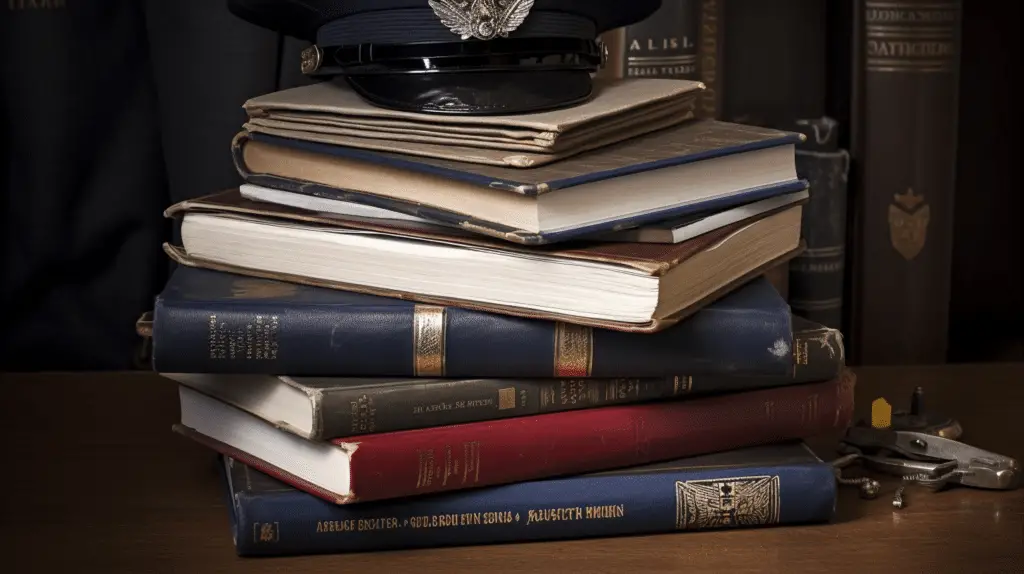 Remember that intoxicating feeling when you first dreamed of soaring the skies, the gentle hum of the engine beneath you, and the vast horizon ahead?

The dream of piloting is as old as Icarus, and while his flight ended in a bit of a meltdown, yours doesn't have to. In fact, with the right resources, you can navigate the heavens like an expert.

But where to begin? The world of aviation literature can seem as vast and confusing as the skies on a stormy day. Fear not! We've scoured the earth, perhaps not quite as dramatically as Amelia Earhart, to bring you the crème de la crème of the best pilot books for beginners.

These tomes are the golden tickets to transforming your lofty aspirations into tangible skills. 🛫
Before we dive deep here are top 10 best pilot books for beginners (in my humble opinion)
Now that we're familiar with the choices, let's delve deeper into each one.
---
Top 10 Best Pilot Books For Beginners
Rod Machado's How to Fly an Airplane Handbook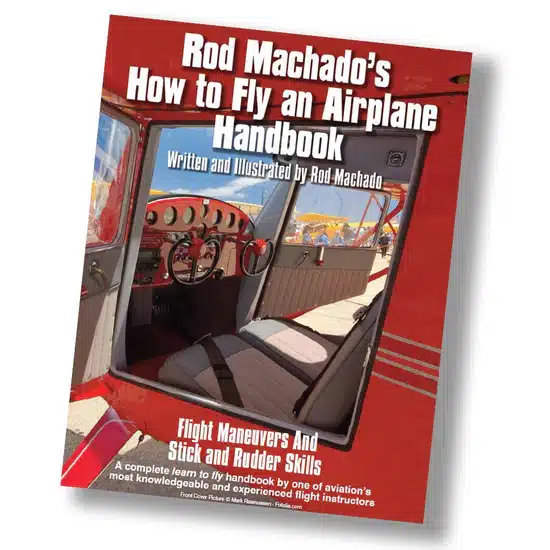 For those who've experienced the unbridled joy of soaring through the vast blue, with the engine's hum and the wind's gentle touch, Rod Machado's How to Fly an Airplane Handbook will resonate deeply.

This isn't just another addition to the list of aviation books; it's a treasure trove of pilot knowledge.

While many guides focus solely on the mechanics, Machado dives into the soul of flying. Crafted meticulously for beginner pilots, this eHandbook explores the heart of "attitude flying" and the revered art of "stick and rudder" skills.

Remember the exhilaration of your first crosswind landing? What are the intricacies of perfecting glide path control? Rod understands these moments, having lived them himself, and he distills his extensive expertise onto every page, guiding those eager to become a better pilots.

As a wise individual once remarked, "Flying is more than a sport and more than a job; flying is pure passion and desire."
---
Jeppesen Private Pilot Book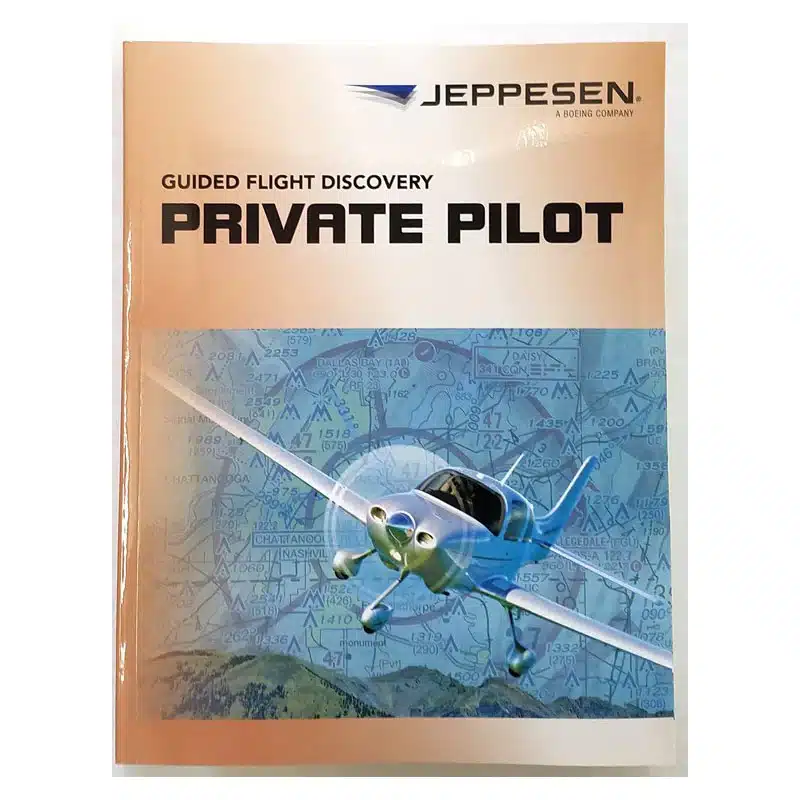 For those ready to soar the skies as private pilots, choosing the right resource is paramount.

The Jeppesen Private Pilot Textbook celebrated for its intuitive organization and dynamic presentation, stands as a beacon in pilot education, and is one of the best books for private pilots.

Recognized as one of the industry's bestsellers, its use is not just preferred but often mandated by reputable flight schools and colleges.

Harnessing the power of the Jeppesen Private Pilot Manual means not just reading one of the great books in aviation but immersing oneself in the comprehensive world of private flight.
---
Rod Machado's Private/Commercial Pilot Handbook
For those who've heard the call of the vast blue yonder, Rod Machado's Private/Commercial Pilot Handbook answers that beckoning.

Meeting the 2023 ACS standards, this handbook is more than just an aviation guide—it's a curated journey into flying.

Delve deep into the core of aerodynamics, grasp the essence of flight instruments, and navigate the intricate maze of FAA knowledge exams.

This comprehensive resource is tailored to mold you into a better pilot, echoing the passion that probably inspired your first step into aviation.

To become a proficient aviator, having Machado's handbook by your side is a wise investment in your journey.
---
Everything Explained for the Professional Pilot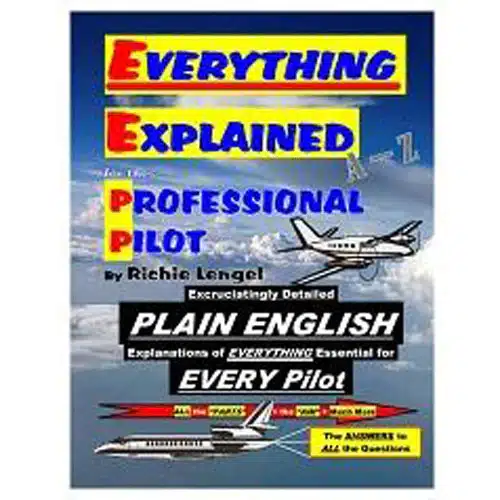 "Everything Explained for the Professional Pilot" is a must-have resource for aspiring and seasoned aviators.

The newest edition of this comprehensive guide shines with updated regulations, procedures, and aviation standards, ensuring pilots are well-versed in current practices.

Its clear, concise explanations demystify even the most complex topics, from instrument reading to navigating the ever-changing airspace system.

The book's practical approach, combined with real-world examples, makes it an invaluable tool for exam preparation and daily reference.

Whether you're brushing up on critical flight theories or delving into the intricacies of pilot operations, this edition is tailored to enhance your knowledge and confidence in the cockpit.
---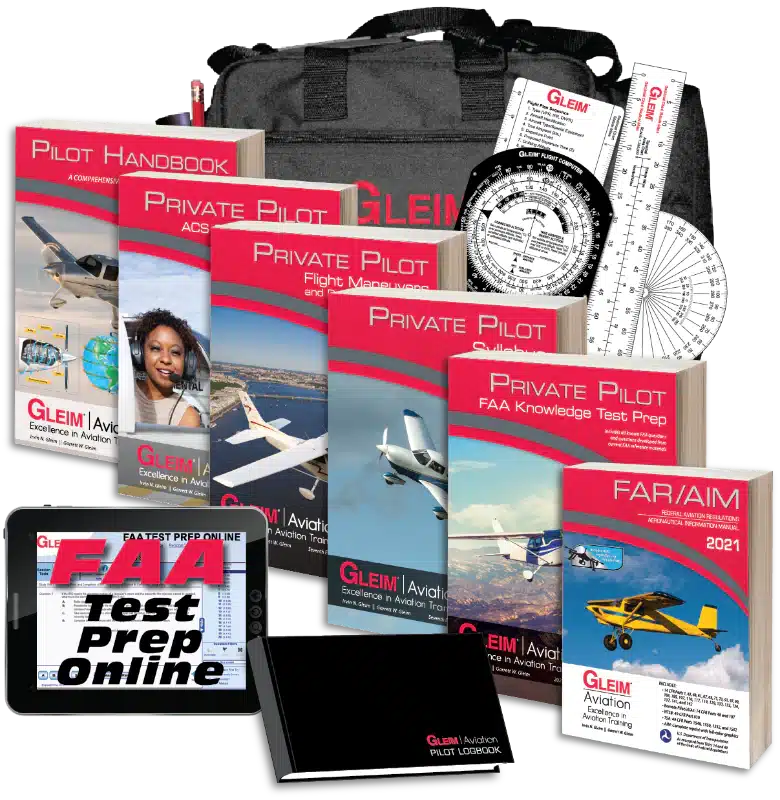 The Gleim Private Pilot Kit is your treasure map. An all-in-one aviation training package, it's the compass pointing to the coveted Private Pilot certificate.

Dive into test prep, immerse in online courses, and navigate the vast world of pilot training. It's like having a seasoned co-pilot guiding you every step of the way.

Mastering the nuances of flight requires more than just practice—it demands understanding. This book ensures you're equipped with the knowledge to not just fly but to truly command the skies.
---
Rod Machado's Instrument Pilot eGround School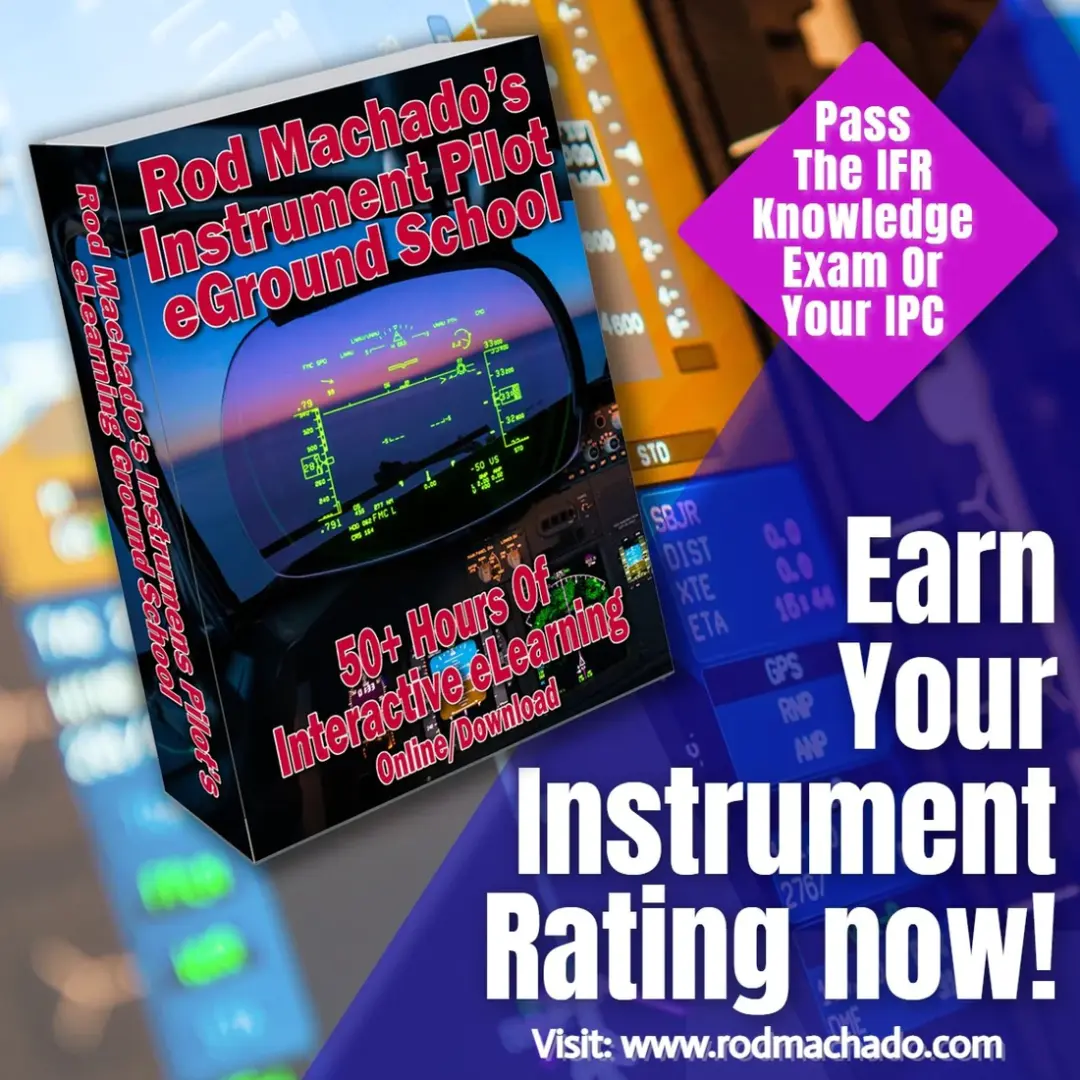 Rod Machado's Instrument Pilot eGround School is an invaluable tool for pilots pursuing IFR proficiency. With lifetime access to 26 online courses, 686 video lessons, and over 50 hours of instruction, it's incredibly comprehensive.

The course is updated to 2023 ACS standards, ensuring current, relevant content. Machado's engaging teaching style, with interactive elements and quizzes, makes learning complex concepts enjoyable and effective.

It's perfect for students, rusty pilots, and instructors, offering a deep understanding of instrument flying, accessible on various devices for learning anywhere, anytime.
---
Jeppesen – Instrument/Commercial Textbook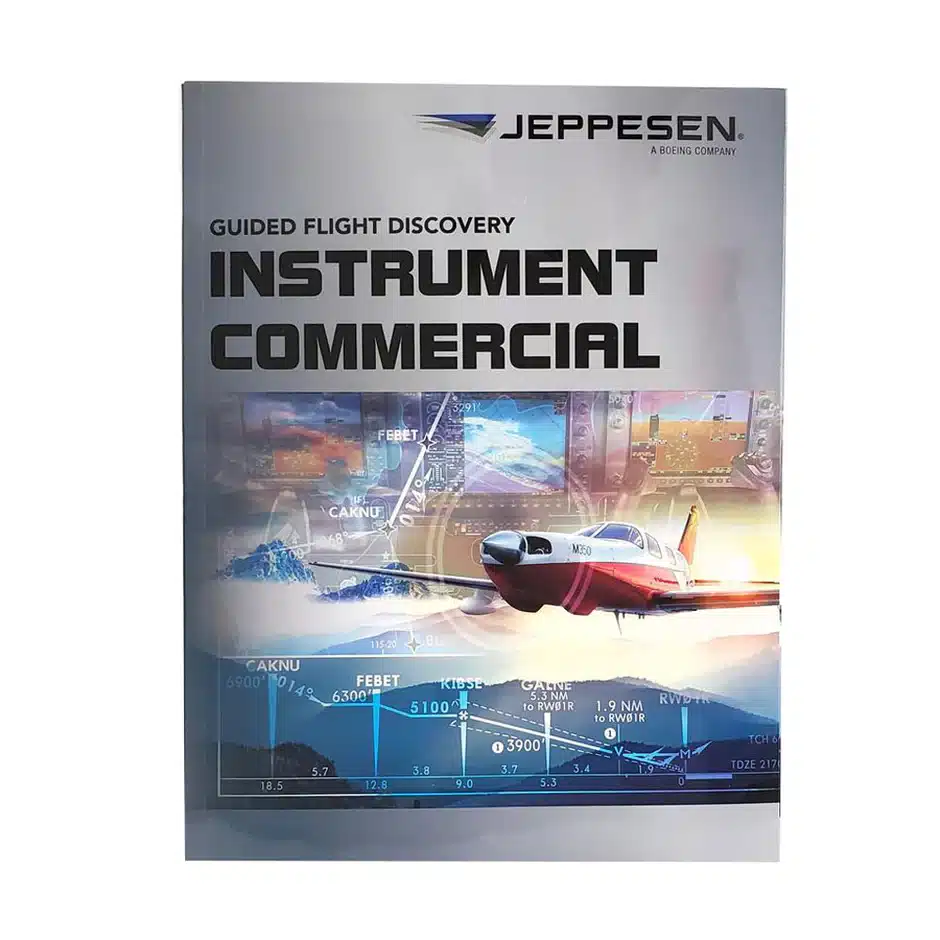 Jeppesen's Instrument/Commercial Textbook is an authoritative resource for pilots elevating their aviation journey to the next level. This textbook is renowned for its thorough explanations that delve into the complexities of instrument and commercial flying.

With detailed graphics, real-world scenario discussions, and comprehensive subject coverage, it's designed to build a strong foundation for advanced pilot certification.

Jeppesen's commitment to clarity and educational rigor makes this textbook a top choice for those aspiring to master the skies professionally.

Whether preparing for exams or seeking to deepen your aviation knowledge, this textbook is an indispensable companion on your flight deck.
---
Gleim Sport Pilot Kit with Test Prep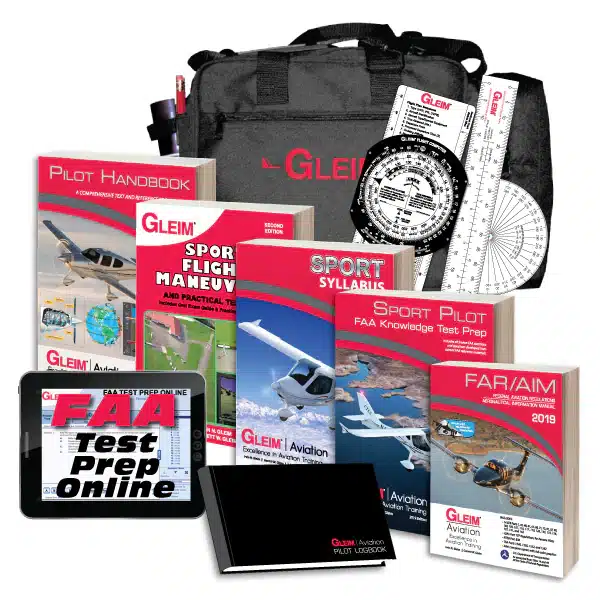 The Gleim Sport Pilot Kit with Test Prep is a comprehensive package designed for the aspiring sport pilot. It provides a structured yet flexible approach to ground school and test preparation.

With its well-organized materials, the kit covers all the necessary topics, from aerodynamics to navigation, ensuring a thorough understanding of sport pilot essentials.

The test prep download is handy, offering a database of FAA questions to fully prepare students for the exam. Gleim's reputation for clarity and effectiveness in aviation education is evident in this kit, making it an excellent investment for those embarking on their flying journey.
---
Jeppesen Aviation Weather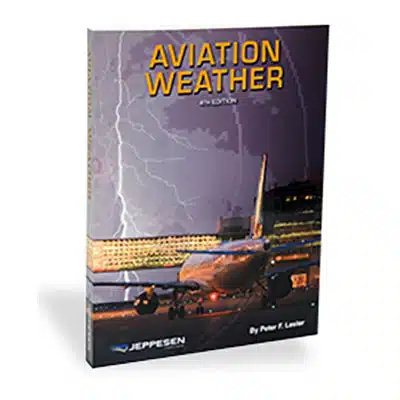 Have you ever been caught off-guard by a sudden gust or an unexpected downpour while flying? With Jeppesen's Aviation Weather, those days are behind you. This guide is more than just pages—it's a deep dive into the world of meteorological wonders.

From the majestic dance of cloud formations to the unpredictable rhythms of turbulence, it's all laid out. And the best part? It's from Jeppesen, a name every pilot trusts.
---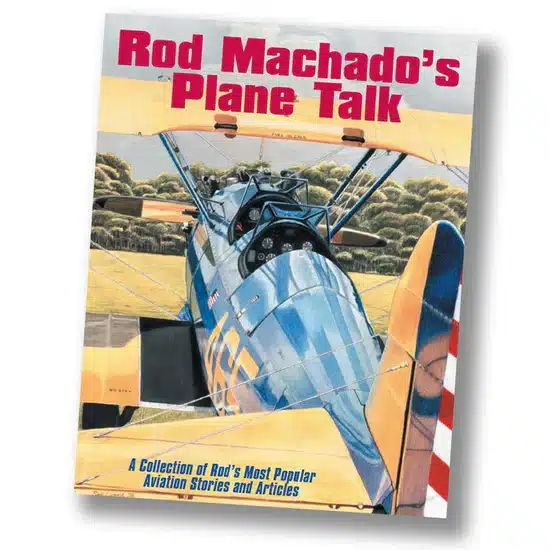 Navigate the skies not just with skill but with wisdom. "Plane Talk" delves deep into the heart of aviation's human factor issues. Given that pilot error accounts for about 85% of all accidents, this book is an essential read for every aviator.

But it's not just statistics and sobering reminders. With 442 pages brimming with vital skills, Rod Machado makes the learning process engaging with his signature humor.

Whether it's understanding aviation risks or mastering airspeed control for smoother landings, this eBook will be your guiding star.
---
Are There Any Free Pilot Training Books?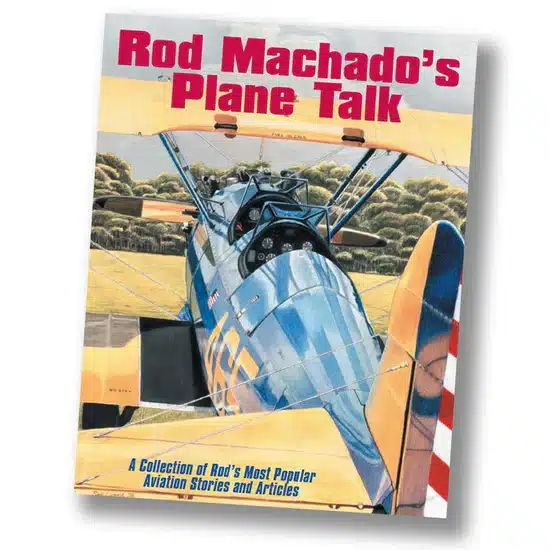 Navigating the world of aviation can often seem daunting for beginners, especially when it comes to sourcing trustworthy and accessible information.

Amidst the myriad of available resources, there emerges a pressing question: are there quality free book for pilots available without the often-prohibitive cost? The answer, delightfully, is affirmative.

One particularly standout resource that comes to mind is Rod Machado's Ground School Training Syllabus.

This syllabus, generously offered at no cost, presents foundational knowledge essential for anyone embarking on their aviation journey.

Structured meticulously, it provides a comprehensive overview, ensuring that neophyte aviators develop a solid understanding of the basics.

Interestingly, while discussing pilot training resources, it's worth noting a random but fascinating aviation fact: the average cloud weighs an astounding 1.1 million pounds.

This serves as a testament to the depth and breadth of the knowledge that aviation encompasses.

Armed with foundational resources like Machado's syllabus, beginners are better positioned to transition from ground to sky seamlessly.

It's heartening to see that the path to mastering the skies is, at least in part, financially accessible to all.
---
Best Pilot Books For Begineers – Conclusion
The realm of aviation literature is vast, offering a treasure trove of knowledge to aspiring aviators. The carefully curated guide of ten books presented here encompasses a range of topics, from the fundamentals of flying to the intricacies of weather navigation.

Each time, whether it's Machado's deep dives into flying techniques or Gleim's comprehensive kits, serves as a beacon, illuminating the path for those eager to take to the skies.

Jeppesen's trusted name brings assurance, while the availability of digital resources ensures learning on the go.

A blend of traditional and modern, these resources cater to diverse learning styles and needs. Whether it's the visceral feel of a physical book or the convenience of an eHandbook, there's something for everyone.

For those with a dream to soar, this guide provides the wings, equipping them to not just touch the horizon but to embrace it. 🛫📘🌌.
Best pilot book for a beginner?
The best pilot book for beginners is "Rod Machado's How to Fly an Airplane Handbook." It offers clear, concise, and engaging guidance for novice aviators.
For novice aviators seeking comprehensive guidance, "Rod Machado's Ground School Training Syllabus" stands out as the premier free instructional resource available.
Related posts